...but I can't share quite yet! (Sorry to be a tease.) It feels good to be scrapping again after the "move." While I still don't have my craft room set up, I do have my scrappy stuff all sorted out so I can grab a few things and scrap on the dining room table while Julia is napping. I have been working on some fun things that will be happening at
Creative Soup
. First up is our "Fun in the Sun Crop" happening this weekend starting August 20 and running through August 27. We are doing things a little different this time around. With the end of summer coming, we know that weekends are pretty busy for most people. We will be releasing all challenges at noon EST on Saturday and everyone will have until the 27th to get them all completed and uploaded. We want this crop to be fun and no pressure! Let us know what you think of this format.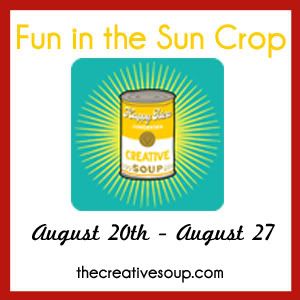 The next thing going on is our FREE quarterly class! This quarter will be a sketch class. K has created 12 fun, original sketches. We will have many great examples of how to use the sketches as well. She will be providing each sketch in PDF format for those of you that like to be able to print them out for your sketch books too. Here is a sneak peek at one of the great sketches...
So, as you can see, our CT has been very busy! We still have our Mojo Monday challenges issued every Monday as well. Hope to see you playing along with all of the fun the next few weeks!