Well, on a good note, my living room ceiling no longer looks like this...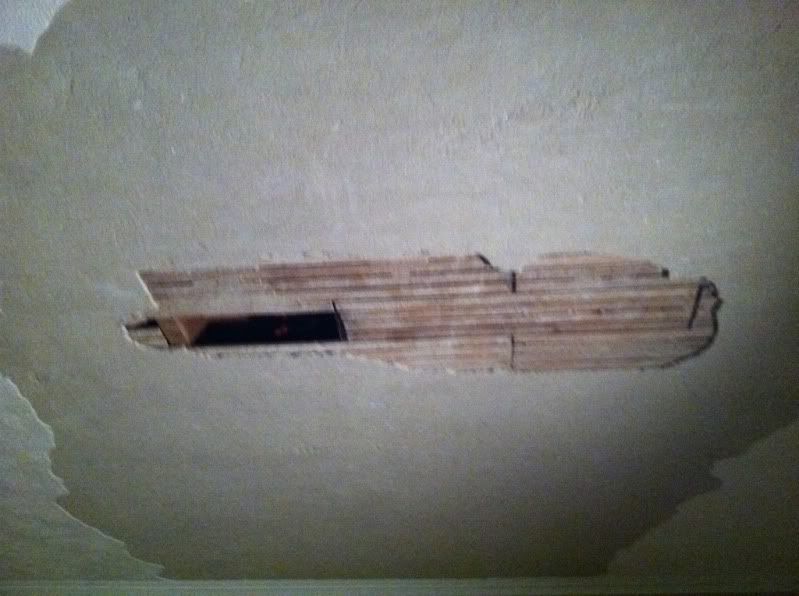 But, unfortunately, it still looks like this...
Which means that Julia and I aren't able to hangout in the living room yet. This means that we are spending a lot of time in the kitchen, her bedroom, and my bedroom! Why not make use of that time in the living room and make a few meals for the freezer as well as making a few freezer meals to share with a few mom's in my Mom's Group that are expecting new babies soon.
Here is the plan for the day:
Lazy Lasagna Chili
(made 4 - 3C bags)
1C chopped zucchini
1/2C chopped onion
1-1/2lbs Italian sausage
3 garlic cloves, pressed
26oz jar spaghetti sauce
30oz beef broth
1C water
1-1/2C uncooked pasta (egg noodles, radiatore, ziti work well)
basil
Chop zucchini & set aside (I cut it in slices and then cut the slices in half but I like bigger chunks). Cook sausage until no longer pink, add onions & garlic. Add spaghetti sauce, broth & water - bring to a boil. Stir in zucchini, cook 2-4 minutes until tender, add basil.
**Don't add the noodles before bagging. When reheating, add the noodles, another cup or two of water and cook them in at that point.**
BBQ Chicken (Crock Pot)
(2 bagged meals)
Everything for this recipe goes into the bag raw.
Chop the following ingredients & divide them between the 2 bags...
3 sweet potatoes, cubed
1 zucchini, chopped
1 onion, sliced
2 green bell peppers, sliced
1 red bell peper, sliced
4-5 chicken breasts, diced
In each bag, place...
8oz tomato paste
1T Worcestershire
2T brown sugar
1T mustard powder
1 garlic clove
1/4tsp salt
Close up the bags, mix a bit and voila!
Reheating
- This can go in the crock pot while still frozen. Add about 3/4C water or chicken broth. Cook on low for about 8 hours.
Baked Ziti (2 meals)
8 oz. container Ricotta cheese
4 cups Mozzarella cheese (divided)
1 cup Parmesan cheese
1 jar spaghetti sauce
16 oz box penne pasta
Cook pasta according to package for al dente pasta. While the pasta is cooking, in stock pot combine spaghetti sauce, ricotta cheese, Parmesan cheese, and 2 cups of Mozzarella cheese. Drain pasta and add to sauce mixture. Divide pasta and sauce mixture into two baking dishes or foil pans. Top each with 1 cup of Mozzarella cheese.
**Reheating- Take dish out of freezer and thaw in refrigerator. Bake covered at 350 degrees for 30 minutes or until cheese is melted. Remove cover and bake for additional 10 minutes to brown cheese on top.
All of this cooking will make 8 meals. I will be giving 3 away, eating one, and and have 4 to freeze for later! Not bad!!!